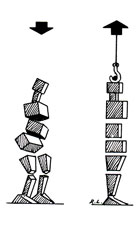 Utilize gravity to lift you up
rather than tear you down.
Learn healthy posture
and movement patterns
Reduce tension,
pain and discomfort
Educate yourself here
Contact me today

Rolf Structural Integration is a form of deep myofascial bodywork incorporating movement and posture education. Unlike a massage this work engages the client in their own unique healing process. The client is an active participant during the sessions; embodying a new way of being, feeling and experiencing their body and its environment. In a session we seek more natural alignment in the joints, increased relaxation of connective tissue, a sense of emotional grounding and expansional balance throughout the body. This deep awareness facilitates more ease of use, efficiency in movement and reduces overall tension and discomfort.

This woman avoided surgery with the help of Rolf Structural Integration. I have helped many people in a similar situation, let me know if you are considering surgery for carpal tunnel syndrome and I'd be happy to see what I can do.
"For a year, I was elbow deep in annoying morning hand numbness. Carpal tunnel syndrome was my diagnosis of choice and when I mentioned this to my naturopath, I was prepared for a referral to a neurologist.

"Before we look at surgery," my doctor said, "let's try physical therapy." I screwed up my mouth like a bad taste had hit my buds. "Not just any physical therapy," she said ignoring my grimace, "but Rolfing."

I was given the name of several physical therapists and decided on one whose bio said she also works with animals, which is a major plus in my book. I made the call, waited four weeks to get in and was greeted at the office door by the therapist's three Italian greyhounds, Enzo, Oliver and Monte."

Read more [here].
Rolfing Structural Integration is helpful for all walks of life. People who are serious athletes especially can be helped by the work. Structural Integration helps to break down unnecessary scar tissue from past injuries or surgeries. Check out this hockey players experience: "After Mark hurt his back playing hockey for the Philadelphia Flyers in 1990, […]
This is a blog post from a colleague of mine Buffy Owens. She practices the Feldenkrais Method in upstate New York. If you're ever in the area check her out, she's great at what she does. – – – - Have you ever wondered why you hold your breath when doing something new? We often […]