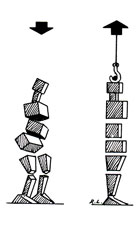 Utilize gravity to lift you up
rather than tear you down.
Learn healthy posture
and movement patterns
Reduce tension,
pain and discomfort
Educate yourself here
Contact me today

Rolf Structural Integration is a form of deep myofascial bodywork incorporating movement and posture education. Unlike a massage this work engages the client in their own unique healing process. The client is an active participant during the sessions; embodying a new way of being, feeling and experiencing their body and its environment. In a session we seek more natural alignment in the joints, increased relaxation of connective tissue, a sense of emotional grounding and expansional balance throughout the body. This deep awareness facilitates more ease of use, efficiency in movement and reduces overall tension and discomfort.

Equine Rolfing Structural Integration has gained a lot of popularity in recent years. My only experience in working on animals is with my 20 pound dog Rio while sitting on my couch at home. She loves hip work.
Working on Rio has taught me about the non-verbal signals all animals (including humans) give when receiving work. When you can't verbally communicate these signals become paramount. While my dog may just walk away when she's irritated with the work, imagine what a horse could do if they don't feel comfortable! Seems like it would be a powerful experience to work with a horse in this way. Check out the video:

Well, in this era of tablets and smartphones we have so many more postures to choose from on a typical work day. Of course proper posture in a dynamic way is much harder to learn, but once you get it it can save you from chronic problems.
This video describes how, using Structural Integration, we can help restore balance to a rib that is out of place.