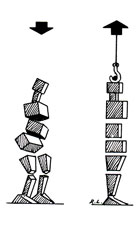 Utilize gravity to lift you up
rather than tear you down.
Learn healthy posture
and movement patterns
Reduce tension,
pain and discomfort
Educate yourself here
Contact me today

Rolf Structural Integration is a form of deep myofascial bodywork incorporating movement and posture education. Unlike a massage this work engages the client in their own unique healing process. The client is an active participant during the sessions; embodying a new way of being, feeling and experiencing their body and its environment. In a session we seek more natural alignment in the joints, increased relaxation of connective tissue, a sense of emotional grounding and expansional balance throughout the body. This deep awareness facilitates more ease of use, efficiency in movement and reduces overall tension and discomfort.

We all know the pains of sitting for too long and many of us do this every day. Whether it be at work for hours on end or long commutes, the fallout can range from stiff and sore to chronically debilitating. But new research suggests that the negative effects can go much deeper than these more obvious issues. From heart disease to colon cancer, there is a great infographic (see link below) that also gives recommendations on how to deal with the problem.
Deadly Issues That No One Ever Told You About Sitting
People always equate relaxing with sitting. Probably most of you agree, but the problem is if you sit for most of your waking hours, you're slowly killing yourself. At least, that's what four experts say in a detailed infographic presented here.
About the serious health issue mentioned earlier, one of my friends heeded the warning. He's a freelance writer like me, and he had developed a bad habit of sitting for long periods of time. Back then, most of the time, he was chained to a chair hitting keys on his keyboard. Every day, his wife would urge him to go out and go walking. She would push him to step out of his office and move around so he won't develop some dreadful disease. He did. Today, he is thankful he listened to his wife, because more and more materials pop out from different sources covering deadly issues associated with sitting for extended hours.
Reporting by Bonnie Berkowitz; Graphic by Patterson Clark
Check out the infographic and original article [here].
Ida Rolf, who created Rolf Structural Integration, has been speaking about the importance of and creating change within the body's fascia since the 50′s. Mainstream science is finally catching up to her.
The Seattle Seahawks Golden Tate praises Rolfing in this video testimonial. Rolfing, good training and diet keep him healthy and feeling fresh throughout the football season.