Reviews
Over the years I have worked on many different types of clientele, from Olympians to CEOs.  Most people can find some benefit from this work, here's what some previous clients have said.
"Archie does great work at competitive prices. I have been to many massage therapists for pain relief, but Structural Integration is the only therapy that has really made a lasting, tangible impact. As a professional actor and singer, I use my body as a huge part of my daily work and keeping it in tune, relaxed and in alignment is vital, and Archie helps me do that."
-Geno C.
"Archie is WONDERful! Really. As far a structural integration goes- this guy knows his stuff. He has a way to "read" the body and see where alignment needs adjusting. His work is deep- but good, in a way that I explain to my clients as a "good squishing." He gives follow up exercises to hold the changes you worked on in your session with him. I am bodyworker and as well and recommend clients to Archie when I know they'll benefit from his amazing work! Overall, Archie is great and very professional. I give him 5 stars for sure!"
-Christina F.
"I've been having persistent lower back pain and thought it was due to my mattress. I came in wanting to learn more about structural integration but not necessarily thinking one session would relieve my pain. Lo and behold, after just one session, i woke up with no pain in my back! I appreciate Archie in that he didn't promise me that he was going to fix me or that I would need a certain number of sessions to feel better. I felt like the process was very intuitive and Archie was able to apply just the right pressure for what my body needed at that time to release tension. I definitely gained more body awareness afterwards as well. When i am able to, I would definitely love to return for more structural integration! I recommend everyone to experience it."
-Minh D.
" I'm on the computer over 10 hours a day, this results in very sore wrists. Through Archie's structural integration work he helps keep me pain free."
-MM, IT Professional
"I'm extremely picky when it comes to spending money on alternative therapies as it is usually an out-of-pocket expense, and I want all the bang for my buck.  Archie at Structural Integration definitely meets my high standards.  He is an exceptionally talented practitioner, and has extensive knowledge of human anatomy and function.  Whether you want things explained in scientific or layman's terms, he can answer just about any question you have for him.  And if you stump him, he will actually take the time to look it up or consult with other colleagues to find an explanation for you.  As a recipient of hip replacement surgery, I have been feeling out of balance lately.  After 2 sessions with Archie I've felt better than I have in weeks!   I'll definitely be back for maintenance whenever I'm out of whack."
-CB, Personal Trainer

"Archie gets my highest possible recommendation. His ground up approach to physical well being & proper posture has helped me with chronic knee, shoulder and back pain... ailments that physical therapy & repeated doctor visits had struggled to remedy."
-SM, Industrial Designer for Infinity

"Archie rocks!!! He is a very gifted & knowledgeable bodyworker. His skills are 5 star*****. I have been receiving bodywork for years & know a great therapist when I experience it. The technique he specializes is very effective & has contributed to my overall posture awareness. I highly recommend Archie to release tension and to support my overall health & wellness. Thanks Archie!"
- JM D.C., Chiropractor
"I just couldn't wait until next week to tell you that it was remarkable with my back yesterday. I actually woke up this morning totally pain free, I could not believe it after all these years. Anyways, I had to let you know about that and how relieved and totally happy I am. Thank you so much."
- KL, Interior Designer

"It's amazing how one moment can dramatically alter a life. I was 20 years old when I fell from a ledge and hit my head. Chronic pain was to follow; like a crack in a windshield it radiated up and down, culminating in my neck. Only to be compounded by several car accidents and surfing. Archie helped the pain in my neck to go away. He realigned my posture, helped circulate blood and energy through those shut-down and injured areas and helped me to function better in the world! He has an intuitive touch, a gift, and an intelligence that makes people feel confident in his abilities and trusting of his practice. I recommend him with the highest regards."
- LS, High School Teacher

"After 30 years of chronic right shoulder pain, it's gone. And I can travel, sleep, and work… It's so amazing to not have that pain, pretty soon you forget that you ever had it."
- ML, Registered Nurse
"Wow! is all I can say. I'd had Hellerwork done in the past, but that was about 15 years ago now - (didn't realize it was so long ago), and my old practitioner had long since retired. Found Archie on Google, checked out the yelp reviews so I decided to try him. Been having MAJOR issues with my shoulder, hip and pretty much the entire left side of my body... after our first session, I was spacey as hell, and the day after pretty sore. The third day I felt like I hadn't in many years. My shoulder felt NORMAL again!!!! No pain, stiffness, or anything! Can't wait for the next session to work on my hips! Totally worth the $$$!!!!!"
-Erik W.
"I went to Archie for a series of bodywork sessions a couple years ago, and I can't recommend him enough! I have had some chronic back and muscular tension issues over the years. His sessions don't just help you get rid of the pain and tension, but he also teaches you so much about your body, to help you combat and prevent the issues from reoccurring. I learned a lot about posture, how to do exercise, etc...he truly is passionate about helping people. Not to mention he's also just awesome company and I truly looked forward to seeing him at our appointments."
-Tara K.
"I recently moved to upstate New York and I have to say there are a few things I miss about living in Southern California, and Archie's work is one of them!  I have been fortunate enough to receive Rolfing and Structural Integration from some of the best practitioners from Colorado to California and I would say that Archie's bodywork is top notch! If you were thinking about going through the full Structural Integration series--Do It! It will transform you posture and change your life."
-BO, Feldenkrais Practitioner & Doula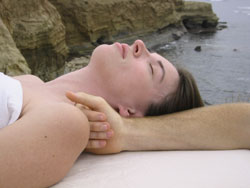 "Just wanted to say thanks again...the pain in my leg is virtually gone right now. I'm amazed. I did a little reading on Structural Integration too and it's very interesting, definitely want to continue."
- BM, Massage Therapist
"Thanks for the amazing treatment. It has taken me months to fully realize what your work has done to transform my body and life. As we have discussed, numerous health practitioners (chiropractors, acupuncturists, and massage therapists) over the years have helped alleviate my pain and dysfunction, but none have given me the twofold gifts that your work has—both healing the whole body at once and educating my awareness so that I can maintain this healing process. I have been amazed to discover how closely my several postural and chronic joint problems were related to emotional issues I have dealt with throughout my life. The 10 step process really helped me to become physically aware of this connection. I have found, in the last few months, that through managing my emotional growth and well-being I have been able to remain relatively pain and dysfunction free, without the help of chiropractic
or other therapy. I realize that much of this work has been of my own effort, yet I must still thank you for this amazing gift that you very patiently imparted to me. Your pleasant demeanor and tireless willingness to explain the process to me made my journey to greater wholeness a lot easier. If there's anything I can do for you, please let me know. As always, I appreciate any insights you may have for me, and the next time I am in San Diego, I look forward to showing you the progress we have made. "
- SM, U.S. Naval Officer
"He's awesome, well educated but not boastful about it. If you want a guy that knows what he is talking about but isn't all in your face about it, he is the guys to see. Hands down."
- JJ, Weight Loss Counselor